08-11-2023

Supercross News

2024 Arenacross British Championship Increases Prize Fund to £140,000
The UK's best riders and teams are set to battle for the largest prize purse in UK motocross history at the 2024 British Arenacross Championship presented by Fix Auto.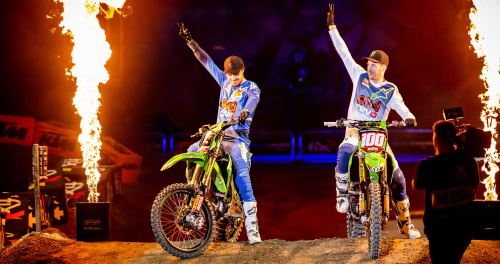 A fund of £140,000 will be up-for-grabs during the course of the eight-round tour, which kicks off 2024 at Manchester's incredible AO Arena on 6 January.
Matt Bates, Arenacross Owner said: "We've always offered an impressive prize purse to pro riders, but for 2024 we've almost tripling the cash prize purse on offer to pro race teams to almost £50,000.
"This proves we're committed to the development and investment in teams. The Arenacross British Championship is cost-effective to race at, plus we offer sponsors and partners of teams unparalleled opportunities that other events in our sport can't match.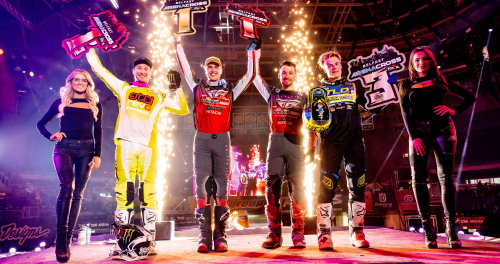 "Equally we put the sport, riders and teams in front of 50,000 live fans at a great time of year; Arenacross offers an incredible platform for teams and our commitment will only increase as we grow our events and help support and set up new teams to compete across weekends in sold-out arenas."
Arenacross is a high-octane show without equal, featuring an electrifying mix of unparalleled indoor motocross racing and fearless freestyle motocross (FMX) action, whilst being simultaneously packed with all-round family fun and edge-of-your-seat entertainment.
Entering 2023 for the first time as a fully-fledged ACU British Motocross Championship, the series has been thrilling crowds across the length and breadth of the UK for a decade and has staged over 100 adrenaline-fuelled shows, entertaining over 500,000 action-hungry fans in the process.
The 2024 Arenacross Tour:
• Round 1: AX Fest, Bolesworth Castle, Cheshire | 15 – 17 September 2023
• Round 2: AO Arena, Manchester | 6 January 2024
• Round 3 & 4: SSE Arena, Belfast | 19 & 20 January 2024
• Round 5 & 6: P&J Live Arena, Aberdeen | 26 & 27 January 2024
• Round 7: Resorts World Arena, Birmingham | 3 February 2024
• Round 8: OVO Arena Wembley, London | 24 February 2024.
Arenacross tickets are on sale now and make the perfect festive gift! Make it a 'Merry Arenacrossmas' by visiting www.bolesworth.com/arenacross now!
Online: Stefan Uhlmann