14-11-2023

Supercross News

PARIS SUPERCROSS THIS WEEKEND
In a few hours the Paris la Defense Arena will begin its transformation to become the home of the most prestigious European Supercross on November 18 and 19! While the riders are fine-tuning their final preparation in Europe or are travelling from the United States, the organizers are ready to start the track-building this Tuesday.

It's just a few days now before this 40th edition of the Supercross de Paris and once again the Paris la Defense Arena will be the centre of the sporting world for a weekend which promises thrills galore! A host of top riders, an XL-size track, a unique FMX show ... the tools are all there to make this anniversary memorable.

Will we celebrate a 27th King?

In the 39 editions to date the Paris Supercross has honoured twenty-six different 'Kings', from the American David Bailey, crowned in 1984, to Ken Roczen, the winner last year. Will Roczen follow in the footsteps of Johnny O'Mara, Jean Michel Bayle, David Vuillemin, Andrew Short and Marvin Musquin in successfully retaining the title? The German will be, as last year, one of the favourites but faces tough opposition, led by the Australians Jett and Hunter Lawrence and the Americans Cooper Webb and Justin Brayton, the latter replacing Justin Barcia who has not yet recovered sufficiently from a recent injury to compete. Their confrontation will be one of the highlights of this edition as Jett and Hunter will be making their debut in the 450 class on a genuine Supercross track while Cooper will compete in his first SX since signing with Yamaha. Facing this quintet will be Americans Justin Hill and Justin Starling as well as the French delegation led by Cédric Soubeyras, Greg Aranda (winner last weekend in Stuttgart), Jordi Tixier and Thomas Ramette.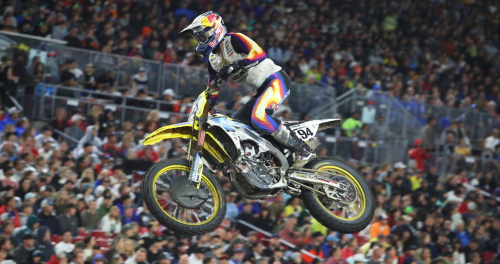 A real Supercross track

Since its arrival in the Paris la Defense Arena, the Paris Supercross has found the space necessary to build a track that lives up to the reputation of the event. Once more this year, taking into account the quality of the rider-field, the organizers have designed a track which will allow the very best riders to make the difference. "We spent many mornings thinking about the track with Jean Luc Fouchet and Xavier Audouard, the Sporting Director of the event," explains Cédric Lucas, who this year will again supervise the construction of the track. "Everyone has their eyes on Paris because it's the biggest European Supercross, which welcomes top American riders, so we can't cut corners on building the track. As last year we are going to build a big series of whoops, because there will be some great riders behind the start gate. » This Tuesday the Arena will begin its transformation, which will last 36 hours - construction of the track will be completed Thursday afternoon – and will require some 3500m3 of earth.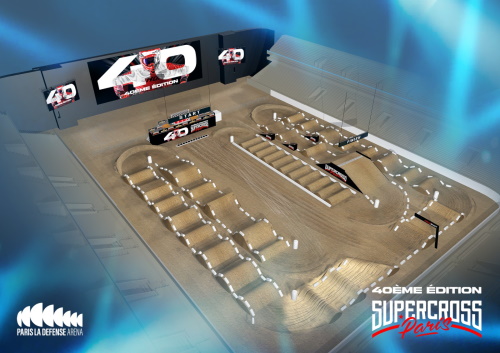 Two International categories

The SX1 category remains the top class in Supercross, but this year the SX2 class - which has always been a feature of Paris - now also boasts International status. The French SX Tour championship will be contested in the prologue of each evening, and then eight of the SX Tour riders will enter the international category alongside several transatlantic visitors. Amongst those will be Double World Champion Tom Vialle – 2020-2022 – making his big debut in Paris just a few weeks after winning the Motocross des Nations with the French team. He will be joined in the Arena by some of the riders he has raced against this season in the USA such as the Japanese Jo Shimoda or the Americans Cullin Park and Jace Owen. And Australian Matt Moss, crowned Prince of Paris last year, is back to defend his title!

High-flying Freestyle

the Freestyle show, always an essential element in a high-profile Supercross, also promises to live up to the high standards of this 40th anniversary edition, with an XXL ramp which will allow Belgian Julien Vanstippen, American Tyler Bereman, German Luc Ackermann and French Nicolas Texier to present new tricks during the two sessions scheduled each evening.

The Saturday evening show has already been sold out for many weeks but you can still find tickets for Sunday.

On Sunday the Arena doors will open at 10:45 am to watch the practice sessions, and then the show will start at 2.00 pm and end at 6.00 pm to allow everyone to travel home in the evening.

Tickets for Sunday are available on the website https://www.supercrossparis.com with seat prices from €55 to €105

The race will be broadcast live on www.MXGP-TV.com (for France and French language speaking, will be live on www.automoto-lachaine.fr)
Liste des partants 2023
(Mise à jour 11 novembre)
CATÉGORIE SX1
#2 Cooper WEBB (USA – Yamaha Star Racing)
#6 Thomas RAMETTE (FRA – Yamaha GSM Dafy Michelin)
#10 Justin BRAYTON (USA – Honda France - SR Suttel)
#18 Jett LAWRENCE (AUS – American Honda Red Bull)
#20 Gregory ARANDA (FRA – Yamaha GSM Dafy Michelin)
#46 Justin HILL (USA – Bud Racing Kawasaki)
#12 Justin STARLING (USA – Honda FR25-Suttel)
#72 Lucas IMBERT (FRA – Yamaha New Bike)
#85 Cédric SOUBEYRAS (FRA – MM85 CBO Honda)
#94 Ken ROCZEN (GER – Suzuki HEP Progressive)
#96 Hunter LAWRENCE (AUS – American Honda Red Bull)
#137 Adrien ESCOFFIER (FRA – Husqvarna CRC)
#727 Boris MAILLARD (FRA – Suzuki Johannes-Bikes)
#848 Joan CROS (SPA – Seakings Kawasaki Euromoto85)
#911 Jordi TIXIER (FRA – Honda Nils)
#589 Killian POLL (F – KTM) remplaçant
CATEGORIE SX2 INTERNATIONALE
#1 Matt MOSS (AUS – Kawasaki Bud Racing)
#28 Tom VIALLE (FRA – KTM Red Bull Factory)
#30 Jo SHIMODA (JAP – American Honda)
#43 Cullin PARK (USA – Honda SR Motoblouz Ship to Cycle)
#389 Jules PIETRE (FRA – Yamaha)
#401 Jace OWEN (USA – Yamaha GSM Dafy Michelin)
#335 Enzo POLIAS (FRA – KTM Milwaukee)
#945 Anthony BOURDON (FRA – Bud Racing Kawasaki)
+ 8 pilotes du SX Tour
CATEGORIE SX2 CHAMPIONNAT SX TOUR
#11 Calvin FONVIELLE (FRA – KTM TMX)
#22 Mickaël LAMARQUE (FRA – KTM)
#42 Josh VARIZE (USA – Stark Varg) wild card
#81 Brian HSU (GER – Yamaha)
#141 Maxime DESPREY (FRA – Yamaha GSM Dafy Michelin)
#225 Charles LEFRANCOIS (FRA – Honda SR Motoblouz Ship to Cycle)
#236 Anthony GROSJEAN (FRA – Kawasaki)
#388 Andrea BONIFACIO (FRA – Husqvarna)
#420 Pierre LOZZI (FRA – Kawasaki)
#505 Dorian KOCH (FRA – KTM)
#751 Germain JAMET (FRA – Yamaha)
# 773 Thomas DO (FRA – Stark Varg) wild card
#938 Maxence MORA (FRA – Kawasaki)
#965 Hugo MANZATO (FRA – Husqvarna)
CATEGORIE FMX
TYLER BEREMAN (USA – Team Red Bull)
Julien VANSTIPPEN (BEL – Team Monster Energy)
Luc ACKERMAN (GER – Team Red Bull)
Nicolas TEXIER (FRA)
KINGS AND PRINCES OF PARIS SUPERCROSS
Year Edition King of Paris Prince winning Nation
2022 Paris La Defense Arena Ken Roczen (GER, Honda) Matt Moss (AUS, Kawasaki) USA
2021 Paris La Defense Arena Marvin Musquin (FRA, KTM) Kyle Peters (USA, Honda) France
2019 Paris La Defense Arena Justin Barcia (USA, Yamaha) Brian Hsu (GER, KTM) USA
2018 Paris La Defense Arena Jason Anderson (USA, Husqvarna) Jace Owen (USA, Kawasaki) USA
2017 Paris La Defense Arena Marvin Musquin (FRA, KTM) Yannis Irsuti (FRA, Suzuki) France
2016 Paris Lille XXXIV Marvin Musquin (FRA, KTM) Florent Richier (FRA, Suzuki) France
2015 Paris Lille XXXIII Weston Peick (USA, Yamaha) Maxime Desprey (FRA, Kawasaki) France
2014 Paris Lille XXXII Eli Tomac (USA, Honda) Maxime Desprey (FRA, Kawasaki) USA
2013 Bercy XXXI Justin Barcia (USA, Honda) Dan Houzet (FRA, KTM) USA
2012 Bercy XXX Jake Weimer (USA, Kawasaki) Josse Sallefranque (FRA, Honda) USA
2011 Bercy XXIX Kyle Chisholm (USA, Yamaha) USA
2010 Bercy XXVIII Justin Barcia (USA, Honda) France
2009 Bercy XXVII Justin Brayton (USA, Yamaha) USA
2008 Bercy XXVI James Stewart (USA, Yamaha) USA
2007 Bercy XXV Chad Reed (AUS, Yamaha) USA
2006 Bercy XXIV Christophe Pourcel (FRA, Kawasaki) France
2005 Bercy XXIII Andrew Short (USA, Honda) USA
2004 Bercy XXII Andrew Short (USA, Honda) USA
2003 Bercy XXI David Vuillemin (FRA, Yamaha) USA
2002 Bercy XX Grant Langston (AFS, KTM) USA
2001 Bercy XIX David Vuillemin (FRA, Yamaha) Broc Sellards (USA, KTM)
2000 Bercy XVIII David Vuillemin (FRA, Yamaha) Justin Buckelew (USA, Yamaha)
1999 Bercy XVII David Vuillemin (FRA, Yamaha) Rodrig Thain (FRA, KTM)
1998 Bercy XVI Larry Ward (USA, Suzuki) Nick Wey (USA, Kawasaki)
1997 Bercy XV Jeff Emig (USA, Kawasaki) David Vuillemin (FRA, Yamaha)
1996 Bercy XIV Ryan Hughes (USA, Kawasaki) David Vuillemin (FRA, Yamaha)
1995 Bercy XIII Jeremy Mac Grath (USA, Honda) David Pingree (USA, Kawasaki)
1994 Bercy XII Mike Larocco (USA, Kawasaki)
1993 Bercy XI Jeremy Mac Grath (USA, Honda) Mickael Pichon (FRA, Honda)
1992 Bercy X Jeff Stanton (USA, Honda) Doug Henry (USA, Honda)
1991 Bercy IX Jean Michel Bayle (FRA, Honda) Jeff Emig (USA, Yamaha)
1990 Bercy VIII Jean Michel Bayle (FRA, Honda) Jeff Emig (USA, Yamaha)
1989 Bercy VII Ricky Johnson (USA, Honda)
1988 Bercy VI Jeff Ward (USA, Kawasaki)
1987 Bercy V Ricky Johnson (USA, Honda)
1986 Bercy IV David Bailey (USA, Honda)
1985 Bercy III Johnny O'Mara (USA, Honda)
1984 Bercy II Johnny O'Mara (USA, Honda)
1984 Bercy I David Bailey (USA, Honda)
STATISTICS SX PARIS
The Kings (39 at the end of 2022)
They have been King more than once:
David Vuillemin => 4 titles
Justin Barcia and Marvin Musquin => 3 titles
David Bailey, Johnny O'Mara, Rick Johnson, Jean-Michel Bayle, Jeremy McGrath, Andrew Short => 2 titles
Among the 26 riders King of Paris, 17 have also been US champions, 12 of them in the main SX class
Wins by country: USA 26 / France 10 / South Africa, Australia and Germany 1
Wins by manufacturer: Honda 17 / Yamaha 10 / Kawasaki 6 / KTM 4 / Suzuki and Husqvarna 1 (Honda won 10 of the first 11 Paris Supercross)
Christophe Pourcel is the youngest King (18 years and 5 months) and Marvin Musquin is the oldest one (31 years and 11 months)
Marvin Musquin won three of the four KTM success
Nine years between the first and last win of Justin Barcia (2010 and 2019, and 2013 in the middle)
Jason Anderson and Ken Roczen are so far the only riders who have been King of Paris for their one and only appearance at Paris SX
The Princes (21 at the end of 2022)
They have been Prince more than once:
Jeff Emig, David Vuillemin, Maxime Desprey => 2 consecutive titles each
David Vuillemin has been Prince (twice) and King (at four editions); apart DV, only Jeff Emig has been Prince (twice) and King (once)
Michael Pichon is the youngest Prince (16 years and 9 months) and Florent Richier the oldest (32 years and 5 months)
Wins by country: France 10 / USA 9 / Germany and Australia 1
Wins by manufacturers: Kawasaki 6 / Yamaha 5 / Honda and KTM 4 / Suzuki 2
Statistics Nations
USA 14 wins / France 6 wins
Team 'Rest of the World' never won the Nations classification (in 2023 for the classification of each night we will take the best SX2 result – scratch classification – and the best two SX1 results; with the Lawrence brothers (Australia) and Jo Shimoda (Japan) team ROW has a real chance to win for the first time)